Goreme, situated in the heart of Cappadocia, and were pleasantly surprised by the approach of people lumps dry landscape. Here is a valley of wonderful fairy chimneys (like the pinnacles of the Rocky Mountains of Canada). First, the nature of the human carved churches pinnacles high and then cut, houses and restaurants inside. A good way to beat the heat, and to maintain a cool temperature during the summer outside. The hotel was built with the soft block and keeps it fresh.
Goreme was a peaceful place compared to Istanbul and Ankara, a quiet town, no one will bother us. On the second day we visited the open air museum and saw many pigeon holes cut into the walls of the valley (to collect guano) and the churches and monasteries with large frescoes intact. Although the inhabitants of the caves later erased from the eyes of most of the faces painted on the walls and ceilings.

Derinkuyu underground city and Ilhara valley. The underground city was one of about 200 that were built as temporary shelter from invaders. In 2000 Derinkuyu people could live for 2 weeks before I would have to clean the surface and waste water and a little fresh air. Cities very clean, equipped with a heavy round stone door could be rolled into place, if the invaders arrived to find an entry that was unlikely. In fact, the underground cities have been lost for hundreds of years after the original builders no longer needs it. Valley Ilhara The march was very quiet as there are pistachio olive and poplar shelter us from heat, and a stream of small bubbles and chilled feet on the road.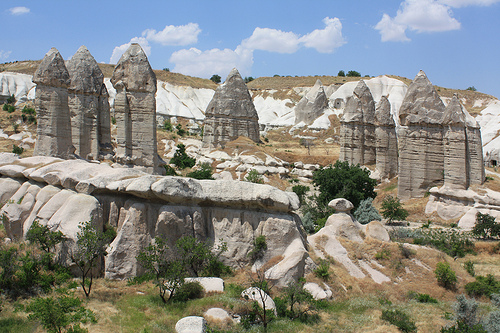 Inside Fairy Chimney Church