Each country has its secrets. For a real traveler, the hardest part of the trip is to find all the places you can not find in any travel guide. Therefore, if you think you are a traveler not just a tourist, this article is for you. Think of an EU country that you know almost nothing. Ok, it is likely that Romania. Now that you have found the most unknown in Europe, we will explore its secrets.

If you travel to Romania, most likely you will buy a guide that will lead to major tourist destinations, such as the Danube Delta, the painted monasteries, Brasov, Bucharest, the capital, the Black Sea, or the Castle of Peles of Sinaia, you'll be looking for Dracula's Castle in Transylvania, and you'll find Bran Castle is not actually Dracula's Castle, but it's still an amazing place to be.

But I'm sure you want to see more of the major tourist destinations. So here it is: if you travel a couple of hours east of the capital Bucharest, is the Muddy Volcanoes Berca - bubbling mud volcanoes that transports gas in the area of ​​3 km below the earth, is a spectacular lunar landscape that will make you feel out of this world. Nearby is the endless Lopatari fire, flames coming out of the earth. In Bucsani, an hour north of the capital Bucharest you will be able to see the beautiful European bison, European bison, a rare species that once used to live in the desert in Europe. In Maramures, is Sighet, the prison where Ceausescu, Romanian dictator used to lock the intellectual elite of Romania. Also in Maramures, the Merry Cemetery is probably the only of its kind in the world. Slanic Salina is another place that has to do: the largest salt mine on the continent is seen as a subterranean cathedral. If you are in Romania in October, it should be in Iasi, Moldova's capital to see the largest pilgrimage in Romania more than a million pilgrims gather to see the relics of an important saint. About Brasov, Romania, one of the most important for the Romanian tourism, is a small town called Sona, where you can see the pyramids of mud 30m high, built for thousands of years, nobody has any idea how they got there . If you travel to the center of Transylvania, is a church that is set to the bottom of a lake. And you can end your holiday with a trip to Romania across the Carpathians, after one of the most spectacular roads in Europe: Transfagarasan.


the Danube Delta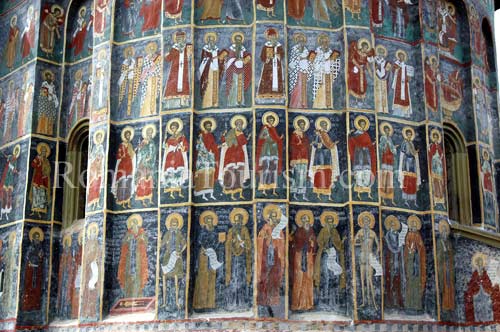 The Painted Monasteries
Brasov
the capital Bucharest
Peles Castle
the Muddy Volcanoes of Berca
the European bison
the Merry Cemetery
Iasi
the Carpathians
Transfagarasan